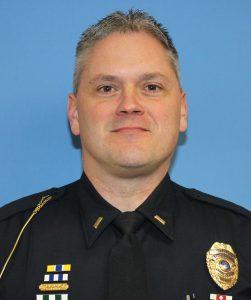 Lt. Greg Patchin attended the Kirtland Community College Law Enforcement Pre-Employment program from the 1990-1992. Lt. Patchin was hired as a part-time officer in 1992 and shortly there after moved into a full-time position.
Lt. Patchin has continued to update his training. Among his specialties are:
At-scene Advanced Traffic Crash Investigation (Over 120 hours of training)
Field Training Officer
Alcohol Enforcement Training
Trained in Emergency Fire and Rescue & Member of the Gerrish Twp. Fire Department
Trained in Marine Enforcement
First Responder Hazmat Operations Level
Homeland Security National Incident Management Compliance (NIMS) Training in ISO 100, 200, 300, 400, 700 and 800
Lt. Patchin's training in accident investigation and as an evidence technician has proven to be quite useful to our Dept.
While Lt. Patchin's contributions to the G.T.P.D. are many, one of his main areas of specialties was being a Field Training Officer. Lt. Patchin was instrumental in developing the Department's 11 week Field Training Program. All new Officers coming into the G.T.P.D. are trained with the use of the Program. The training is designed to educate new Officers about the effective handling of law enforcement activities as well as preparing new recruits for the departmental policies related to the Gerrish model of Community Policing.
Lt. Patchin has received several awards for excellent work to include a Life Saving award for his role in the use of a Automated External Defibrillator (AED), a Certificate of Merit, a Certificate of Commendation and three Department Citation Awards.
Lt. Patchin received a promotion to his rank of Sergeant effective September 9, 2006 after being a patrol officer with our department for 14 years. Lt. Patchin completed the Law Enforcement Executive Leadership Institute in 2012 and was just recently promoted to his current position of Lieutenant on November 18, 2017. Lt. Patchin is the Department LASO/TAC (Local Agency Security Officer/Terminal Agency Coordinator) for LEIN (Law Enforcement Information Network) and is the Department Training Coordinator and Scheduling Officer.
Lt. Patchin received the Gerrish Twp. Police Officer of the Year Award in 2013 and in 2014, Lt. Patchin successfully completed the Police Executive and New Chief's School in accordance with all local, state and federal guidelines certified by MCOLES.
E-mail Lieutenant Patchin or call me at 989-821-5207 ext 286