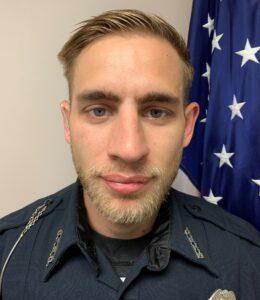 Zachary grew up locally here in Roscommon, MI and graduated from Roscommon High School in 2012. While in high school Zack played both Varsity football and baseball.
Zack graduated May 6, 2021 from the Kirtland Regional Police Academy with an Associates Degree in Criminal Justice Pre-Service. He was awarded the Kirtland Regional Police Academy 52nd Graduating Class Academic Achievement Award and was on the President's List for earning a grade-point average between 3.8 – 4.0.
From 2014-2018 Zack coached Varsity football for Houghton Lake then Roscommon along with being the Freshman basketball coach for Houghton Lake in 2017.
Zack enjoys spending his days on Higgins Lake, fishing, golfing, playing softball, discing and spending time with family and friends. He loves his community and looks forward to serving his hometown.
Officer Zachary Stachurski was officially hired and sworn in as a Full-Time Road Patrol Officer for the Gerrish Twp. Police Department on May 7, 2021.
Zachary holds the following Training/Certificates:
PBT/Standardized Field Sobriety Testing
OC (Pepper Spray) Training
MCOLES Concealed Pistol License Safety Training
Data Master Training
Basic LEIN Operator Training
Taser CEW Training
Email Officer Zack Stachurski at zstachurski@gerrishpolice.org or call met at 989-821-5207 Ext. 293