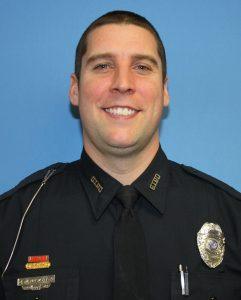 Eric grew up in Alpena, Michigan and graduated from Alpena High School in 2002. Eric was very active in many sports throughout his High School years. Eric played football and currently still holds the High school record for the most reception yards in a single season. Eric also enjoyed basketball and baseball as well and excelled in both at the highest levels.
After High School, Eric attended Alpena Community College to study Criminal Justice and while there he played for the Basketball team. In 2004, Eric graduated from Alpena Community College with an Associates degree in Criminal Justice. Eric then transferred to Ferris State University to continue his studies in Criminal Justice. Eric was a walk on with the Ferris State University Football team and played tight end. In his senior year, Eric went through the Ferris State University Law Enforcement Academy and graduated on May 6, 2006 with a Bachelor's degree in Criminal Justice.
Eric was hired as a Patrol Officer in Gerrish Township on June 13, 2006. Eric is assigned to GAP 1.
Eric has a great friendly personality and has already made himself at home here in Gerrish Township.
Currently Eric has already received the following training;
Datamaster Breathalyzer Trained and PBT trained
LEIN Trained
Examination of Intelligence Documents training
Ethics and Integrity training
Radar Certification
Firefighter I and II
Hazmat First Responder Awareness and Operations
CPR/AED
Domestic Violence Response Training
Pharmaceutical Diversion Training
Evidence Technician
LEIN TAC trained
Conducted Electrical Weapon (Taser) Instructor
Defensive Pepper Spray Instructor
Cellular Records
Officer Muszynski received a Department Certificate of Merit Award in 2008 and has co-chaired the Annual Trunk or Treat and Haunted Trail for the past six years.
E-mail Officer Eric Muszynski or call me at 989-821-5207 ext 288