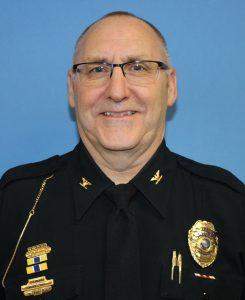 Chief Brian Hill attended Kirtland Community College from 1980-1982 where he earned an Associates Degree in the Applied Science of Police Administration. This degree also made him eligible for the Pre-Employment track to gain State Certification. Chief Hill graduated in 1982.
While going to school, Chief Hill did two separate college internships with the Gerrish Township Police Department and he worked as a Marine Deputy for the Roscommon County Sheriff Department in 1981. Upon graduation from college in May of 1982, Chief Hill was hired by the Gerrish Township Police Department as a road Patrol Officer.
Since then, Chief Hill has exhibited excellent leadership skills and has developed a strong foundation in police work. His contribution to the Gerrish Township Police Department has led him to receive 7 Departmental Commendations/Citations for excellent investigative work as well as a Life Saving Award for the use of a Department Automated External Defibrillator (AED) to save a heart attack victim.
Chief Hill received a promotion to Sergeant in 1994. As a Sergeant, he played a major role in assisting the Department in its organizational transition to an award winning prominent community policing organization. He has done so by setting the example for other Officers to follow, whether this is in creating Neighborhood Watches, designing community programs, or working closely with new Officers to assist them in how to effectively conduct quality police investigations.
In 2002, Chief Hill also received a community involvement award from the Advisory Community Team-Neighbors on Watch (ACT-NOW) for his role in promoting community partnership between the Police Department and the Community. This collaborative also produced an award from the Neighborhoods Association of Michigan for creativity in Community Collaboration.
As a Sergeant in 2004, he was appointed to serve as a Co-chair of the Roscommon County COOR Coalition against Domestic and Sexual Violence. This group participates with Crawford, Oscoda and Ogemaw County and seeks consistency of enforcement and court proceedings of Domestic and Sexual violence throughout the four County area. The group is partnered with the River House Shelter as well. On October 1, 2006, Chief Hill and other administrators in the County were recipients of a Federal Grant to specifically address Domestic Violence concerns in our County. Chief Hill and other administrators sat on the board that directs the newly formed team of Officers that specifically work Domestic Violence cases.
Chief Hill was promoted from Sergeant to the office of Chief of Police September 9, 2006.
Chief Hill serves on many boards on behalf of the Department to include serving as the chairperson of the Roscommon County E-911 Technical Board which is the board that governs the policies and checks the liabilities of the E-911 center as it deals with communications from the public, Police, Fire and EMS. In 2008, Chief Hill was appointed to the Michigan State University School of Staff and Command Advisory Board where he serves with 17 other Michigan Law Enforcement Executives as a small agency representative on the board.
In 2011, Chief Hill was asked to serve on the Advisory Board of the Kirtland Regional Police Academy and the board request was accepted. This board assists in the direction of the Kirtland Community College Police Academy which we are very fortunate to have in our community.
In June of 2012, Chief Hill was elected to the office of President of the Executive board for the Michigan Association of Chiefs of Police (MACP). The MACP has a membership of over 1000 law enforcement executives representing municipal, township and state police agencies. The MACP is dedicated to the enhanced professionalization of law enforcement in Michigan and serves its membership via professional publications, seminars, training conferences and through legislative endeavors. The MACP is headquartered in Okemos and served by an Executive Director, and Executive Assistant and an 18 member Board of Directors.
In 2013, Chief Hill was awarded the "Crime Fighter Award" by the Fight Crime, Invest in Kids, Michigan organization for his role in fighting for Early Child Education appropriations from both Washington D.C. and our State Capital.
In 2014, Chief Hill received a Distinguished Service award for his work on the Michigan Association of Chiefs of Police Executive board from 2009-2014.
In accordance with the Department mandate of the Community Policing philosophy, Chief Hill leads a very active Community Emergency Response Team (CERT) of 30 members which are used in times of community crisis. Additionally, the Chief serves as a founding member and organizer and non-voting advisory board member to the Gerrish Township Advisory Community Team-Neighbors on Watch (ACT-NOW) group that is a 501(c)(3) Non- profit charity association that raise over $25,000.00 a year to distribute back to the Community in the form of scholarships, home heating assistance to the elderly, providing Christmas tidings to local families through the Shop-With-A-Cop program, Christmas for Foster Children, Trunk or Treat and many other benevolent activities.
As a caring involved member of the community, Chief Hill served as a School Board member of the Roscommon Area Public Schools from 2001 through 2012 before retiring from the position. During his tenure on the board, he has served 2 years as a trustee, 8 years as the Treasurer and the last 2 years as the Board President.
Chief Hill also actively participates with the Northern Michigan Children's Assessment Center by being a Case Review Team member that meets each month. As of October 2020, Chief Hill serves on the Board of Directors of the Northern Michigan Children's Assessment Center.
Chief Hill maintains a commitment to continuing education and has received more than 3000 contact hours and the following is a sample of some of that commitment:
Radar Certification
DataMaster Breath Test/PBT
Alcohol Enforcement Training
Arson Investigation
Ordinance Enforcement and Adoption
Bomb Threat Assessment
Attended the LEELI (Law Enforcement Executive Leadership Institute)
Criminal Sexual Conduct Investigations
Child Forensic Interviewer
LEIN Operator and Terminal Agency Coordinator (TAC)
Successfully completed the New Chief's school through the Criminal Justice Management Institute
Successfully completed Advance Chiefs and Sheriffs School.
Successfully completed Problem Solving and Supervision of Community Policing through Michigan State University School of Criminal Justice, Regional Community Policing Institute (RCPI)
Progressing with National Incident Management Compliance (NIMS), Chief Hill has obtained NIMS required training in ISO 100,200,300,400,700 and 800
Chief Hill also participates in many other initiatives and was the first to lead an agency in the County to install a Drug Drop Box at the Police Department in an effort to get unwanted prescriptions off the streets and septic systems near Higgins Lake.
E-mail Chief Hill or call me at 989-821-5207 ext 287