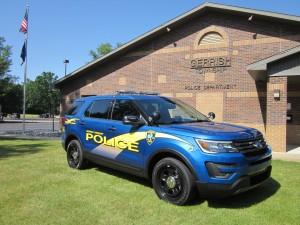 Vehicle #2 and Vehicle #3 – Same Units (Different Years)
VEHICLE #2
2017 Ford SUV AWD Police Interceptor
Purchased in October 2017. All of the vehicles in the Gerrish Police Fleet are now the same model and are Explorer SUV All Wheel Drive vehicles. This allows increased performance during our long winter months when ice and snow are common and the ability to get around to areas in the township where there are trail type access roads.
VEHICLE #3
2016 Ford SUV AWD Police Interceptor
In June of 2016, we took delivery of a Ford Police Interceptor AWD Utility Patrol unit. This unit replaces a 2013 Chevy Impala 4 door Chevy Sedan Police vehicle under the department's regular replacement schedule. The Department replaces vehicles approximately every other year and at that time the oldest of the fleet gets retired.